Registration of ownership in the electronic registry: why should it be done?
Cost of services:
from 25 000 UAH
Real Estate Transaction Support
from 2500 UAH
Consultation of a lawyer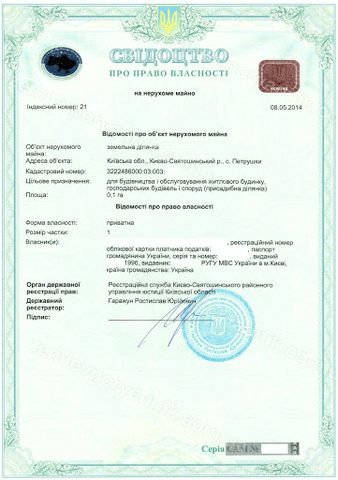 Reviews of our Clients
Director G. Smirnov, LLC "Olvita"
LLC "Olvita" expresses its gratitude to law firm "Pravova Dopomoga" for highly professional advices provided by your experts on legal issues
The purpose of state registration of property rights is to provide protection and safeguard the rights and lawful interests of property owners and users. This is done by creating additional guarantees for them and minimizing the possibility of unscrupulous individuals registering rights that do not belong to them. This process creates obstacles to illegal property transactions.
In Ukraine, the law stipulates that only registered rights have legal force with respect to third parties. Therefore, only individuals who own the property in question and have valid documents that meet the requirements of the law can register property rights
The following rights are subject to state registration:
1) The right of ownership;
2) Real rights derived from the right of ownership:
the right to use (servitude);
the right to use a land plot for agricultural purposes (emphyteusis);
the right to build on a land plot (superficies);
the right of economic management;
the right of operational management;
the right of permanent use and the right of lease (sublease) of a land plot;
право пользования (найма, the right of use (rental) of a building or other capital construction (or its separate part), arising from a lease (rental) agreement for a period of at least three years;
mortgage;
trust ownership;
other real rights in accordance with the law.
3) The right of ownership of an unfinished construction project;
4) Restrictions on the alienation and seizure of real estate, tax liens on real estate, and other encumbrances.
We will provide information on how the registration process works today, including when and what needs to be registered.
You may also like: How to Invest in Real Estate in Times of Conflict?
What are the available options for registering property rights?
Immovable property, property rights of which are subject to state registration, include:
land plots;
enterprises as a single property complex;
residential and non-residential properties such as houses, apartments, offices, warehouses, garages, and more.
Since the introduction of the State Register of Property Rights to Immovable Property on January 1, 2013, there have been questions about the validity of documents and their registration that were created before this time.
Therefore, there are different options for registering ownership rights among the various documents related to real estate.
The most up-to-date way to register property rights is through the new electronic registry (the State Register of Property Rights to Immovable Property), which has been in operation since January 1, 2013. This registry can only be accessed by accredited state registrars, including notaries.
Previously, registration was done through a competent Bureau of Technical Inventory (until December 31, 2012), which was initially done only on paper (books) and later in electronic form (Register of Property Rights to Immovable Property).
In practice, if your property rights have already been registered in the electronic registry, there should be no issues. This registry now serves as an archival component of the new State Register of Property Rights. You can verify the fact of registration by obtaining information from the new registry.
However, problems often arise with older documents where property rights were only registered in the Bureau of Technical Inventory's books (on paper only).
In this case, the fact of property registration is confirmed by a stamp from the Bureau of Technical Inventory (BTI) on the documents, usually on the back, or an additional document such as a registration certificate that was attached to the property rights document.
It's worth noting that all these types of property registration are still relevant today! Nevertheless, we recommend registering your property rights in the new registry for various reasons
You may also like: Key Questions to Ask the Real Estate Seller Before Buying Property
What are the advantages of registering your property rights for real estate in an electronic registry?
Using an electronic registry enables property owners to keep an eye on their real estate and ensure they don't fall prey to fraudulent real estate agents or registration officials. In fact, there have been instances where property buyers discovered that the right to ownership of a residential building, which was only registered on paper in the book of registration by the BTI, had been re-registered in a new registry to a third party based on forged documents. This discovery was made possible by accessing the electronic registry, and the seller was completely unaware of the fraud. This led to a criminal investigation.
Another benefit of re-registering property rights in an electronic registry is that it allows you to sign up for notifications. This means that whenever any action is taken with regards to your property, such as a sale or mortgage, you will receive an immediate notification. This helps prevent illegal alienation or encumbrance of the real estate.
What is the procedure for registering property rights for real estate?
To register your property rights for a real estate object in the new registry, you need to submit an application and the following package of documents to the registration official (depending on the specific situation, this list may be supplemented with other documents):
Identification documents and tax numbers of all co-owners;
Technical passport for the property;
Document establishing ownership rights (a donation or sales agreement, certificate of ownership, court decision, certificate of inheritance, etc.);
Informational reference from the BTI (if the property has not been entered in the electronic real estate registry since 2013);
Documents about the right to own land (if it is a private house or a standalone commercial building);
Extract from the State Land Cadastre (if it is a private house or a standalone commercial building, or directly related to the land plot).
Property rights registration in Ukraine can be done by an accredited entity or a notary within five business days. But if the owner is willing to pay a higher administrative fee, they can opt for an "urgent" registration that can be completed:
within 2 business days;
within 1 business day;
within 2 hours.
According to Ukrainian legislation, third parties can conduct registration actions on behalf of the property owner with the appropriate power of attorney. We have a wide range of notaries and registrars who specialize in real estate matters and can guarantee the speed and accuracy of registration without the owner's physical presence.
Once your property rights have been registered in the State Register of Real Property Rights, you will receive an extract from this register (with the registrar or notary's signature and seal). This extract will include the following information:
The current details about the real estate (location and size)
The title document proving the owner's right to the property
The share size in the ownership
The owner's personal details
But what really matters is the electronic record in the register that confirms your registered property right on the real estate.
The introduction of this register significantly enhances the safety of property owners and their properties and reduces the likelihood of unscrupulous individuals registering rights they don't own. Owners can choose to re-register their "old" property in the new register, but remember that it's your legal right, not an obligation.
If you're not sure whether this registration will benefit you, feel free to contact us. We can help you make an informed decision, evaluate all the risks, and, if necessary, complete the procedure on your behalf.
Didn't find an answer to your question?
Find more information about real estate in Ukraine here.
We are ready to help you!
Contact us by mail [email protected] or by filling out the form: