How to open a pharmacy in Ukraine? The best articles for 2019-2022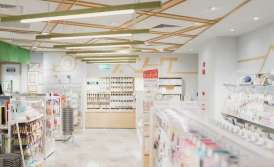 Archive

One of our company's most popular services is legal assistance in obtaining Pharmacy Licenses in Ukraine. We are often asked for advice on whether the Client's premises for a pharmacy meet the licensing requirements and whether the documents for the license are properly executed.
We not only help to solve such issues in practice, but also write articles for those who want to hunt down the question on their own.
Here you can find our best publications for 2019, 2020 and the beginning of 2021, which will help you to find answers to questions related to opening a pharmacy in Ukraine and the process of obtaining a license to trade in medicines.



Procedure for obtaining a Pharmacy License in Ukraine and starting your own pharmacy
What should you consider when selling medicines in a pharmacy?
You can get full information about the price and period of obtaining the Pharmacy License on our service page.
We will obtain for you a Pharmacy License quickly and easily! Sign up for our newsletters so you do not miss our new useful publications!

We are ready to help you!
Contact us by mail [email protected], by phone number +38 044 499 47 99or by filling out the form:
We are ready to help you!
Contact us by mail [email protected], by phone number +38 044 499 47 99or by filling out the form: