Handling the formalities for invitation to Ukraine: our practical experience and services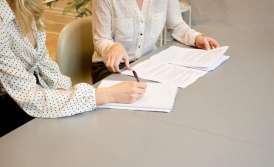 Our company is often contacted by individuals, as well as representatives of companies that need help in inviting foreign citizens to Ukraine.
We would like to immediately note that in accordance with the current legislation, the invitation is required for citizens of the states that have a visa regime with our country.
This document is needed when a non-resident intends to visit Ukraine for personal or business purposes.
Such an invitation can be your ticket to Ukraine if you want to start the procedure of obtaining a residence permit or to stay in Ukraine some other way.
Related article: Our Lawyers Helped A Sports Club To Obtain An Invitation For A Coach From The USA
What is the difference between private and business invitations to Ukraine?
Guest (private) invitation is issued for the subsequent opening of a short-term visa (C type). It gives a non-resident the right to stay in Ukraine for up to 90 days within a six month period from the date of crossing the border.
This type of visa is often granted to foreign citizens arriving in Ukraine for the purpose of marriage or family reunification, as well as for cultural exchange or participation in sports events.
Business invitation is prepared at the request of the Ukrainian legal entity (for example, a representative office of a foreign company), which shall be indicated as an inviting party.
This invitation allows an applicant to obtain C-type visa for the period of 5-90 days.
The type of the invitation depends on the inviting party. Our law firm offers legal support and assistance in obtaining the business invitation.
This means that the company undertakes in writing to finance the deportation of a foreigner, if necessary. Which, in turn, serves as a soothing factor for the state authority when it makes a decision on the visa issuance.
Related article: Our Lawyers Helped A Citizen Of Egypt To Obtain A Visa To Ukraine
Our company's experience in making the invitation for a foreigner
Recently, we were contacted by a Client with a request to prepare an invitation letter and a package of documents to obtain a visa for a Moroccan citizen. Previously, she applied to a non-legal visa company, which couldn't properly explain her what kind of invitation she had to make, so that a foreign person could obtain a visa to Ukraine.
First of all, she needed preliminary consultation, which would allow her to know:
all the legal nuances arising in the process of obtaining these permits (e.g., proof of financial sufficiency);
the total cost of the procedure.
As a result of consultation and follow-up work, we have:
provided the Client with basic information on the invitation process;
offered our model of business invitation;
helped with the insurance of the invited person;
prepared a package of documents for the C-type visa.
This allowed a Moroccan citizen to freely enter Ukraine and apply for a C-type visa.
Such a "turnkey" service significantly increases the chances of a foreigner to get a positive decision of the State Migration Service of Ukraine on the visa issuance.
Related article: Obtaining Residency Permit In Ukraine For Foreigners That Arrived In Ukraine To Work In Representative Offices Of Foreign Companies And Non-Governmental Organizations Or Foreign Bank Branches
Note! The amount of funds sufficient for a foreigner to get a positive decision about his or her entry to Ukraine is calculated according to a specific formula proposed by the Ministry of Foreign Affairs of Ukraine. Foreigners often do not know that they can prove their financial sufficiency not only by having sufficient money in a bank account, but also by other means. For example, a hotel reservation.
The cost of insurance depends on the the Client's age, nationality and other characteristics.
If you want to enter Ukraine without any hindrance and have sufficient grounds for obtaining a visa, don't hesitate to call us!
We are ready to help you!
Contact us by mail [email protected] or by filling out the form: