Copyright on the Internet: millions violate, few bear responsibility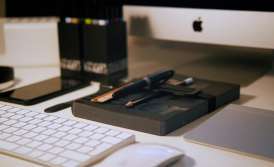 Everyday copyright is violated by millions, and almost everyone gets away with it. But the situation with file-sharing service EX.UA showed us that such situation can't last forever. Each of the EX.UA or other internet services users can face visit of law enforcement authorities and prosecution for copyright infringement. And when EX.UA managed (not without loses) to reject the claims of police representatives (with support of millions of users), protection of each individual user must be based on comprehensive understanding of one's rights and certain precautionary measures.

On paper the responsibility for copyright infringement (including infringement on the Internet) is rather severe: one may be brought to criminal administrative or civil responsibility. Due to the article 176 of Criminal code of Ukraine the criminal liability is incurred when the damage caused by the violation has the significant amount. The lower threshold of significant amount is defined as 20 non-taxable minimum incomes (today = 10 730 UAH).

Thus one can be brought to criminal responsibility under the 176 article of Criminal code of Ukraine only if the amount of damage is proven and equals or exceeds the mentioned sum. The minimum sentence is 3 400 UAH, the maximum – 6 years of prison. When the damage is less one can be brought to administrative responsibility under the article 51-2 of The Code of administrative offences of Ukraine (fine from 170 up to 3 400 UAH). We should mention that even without consideration of such responsibilities, the copyright holder may sue for compensation.

But in practice it does not look so scary: only those who sell audio- and video products on the disks or install software illegally downloaded from the Internet are brought to criminal/administrative responsibility (exemplified by sentences of Ivano-Frankovsk City Court on 30.11.2011 № 0907/1-685/2011, Koryukovskiy district court of Cherkassy region on 31.01.2011 № 1-97/11, Court of Ternopil region on 30.08.2011 № 1-613/11).

There are a few reasons for this. First of all, such violations are easily fixed: the disks are absolutely material, and the fact of installation of software is proven by the expertise. Secondly, software products are quite expensive to fit the amount of damage required by Criminal code. Thirdly, software corporations are zealously monitoring distribution of products and apply to courts to protect their rights.

The situation is opposite with the text, audio and video products. First of all, an average price of the product is quite low to cause the required damage by one person. Secondly, article 25 of the Law "On Copyright and Related Rights" can help a person who watched online or downloaded one sample of a movie, a song or a book.

The article allows playing back lawfully published works without author's consent and without payment of royalties only for personal purposes or for use in a family circle, and for audio and video products – still without author's consent but with the following payment of royalties under the article 42 of the Law "On Copyright and Related Rights". The latter states that payment of the reward shall take the form of deduction (percents) of the cost of equipment and (or) physical media by producers or importers of such an equipment/media.

Thus, it is assumed that the percentage of royalties should be included in the cost of a disc (cassette) and a music player. But with downloading from the Internet a user does not purchase any physical media and that's why he or she is not obliged to pat any deduction. Moreover any work in the Internet can be considered legally published, until the otherwise is proven.

As we can see from the generalization of the Supreme Court of Ukraine of 01.01.2006 there is no possibility of bringing to responsibility for the usage of computer games as long as there is no definition "computer game" as an object of intellectual property rights (it is still not defined).

As for those who download movies onto the Internet, without consent of the author, their actions, of course, are prosecuted, because it is illegal to replicate copyrighted works. But it's rather difficult for police to prove one's involvement in the offense.

Even the high-profile case of Infostore website was returned for the further investigation by Kyiv Shevchenkivskyi District Court (that is almost equal to acquittal in Ukrainian realities). The reason is that law enforcement authorities couldn't find out the IP-addresses, that was used to download pornographic content to the Infostore ( judgment № 1-107/2010 dated 20.10. 2010).
We are ready to help you!
Contact us by mail [email protected], by phone number +38 044 499 47 99or by filling out the form: